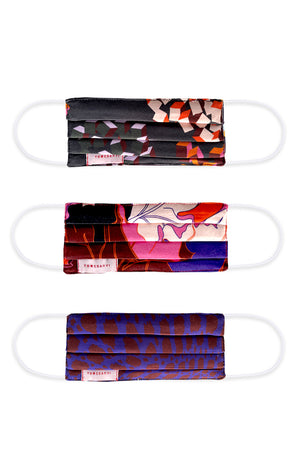 'Wine' print mask 3 pieces
Free shipping is included - due to expensive international shipping we are only selling these masks in a pack of 3 pieces

WARNING: This is NOT a medical aid! 
Handling Instructions: Wash it in washing machine and iron it after every use! When gets humid from breathing, please safely remove it, clean it and put on a fresh one!
4 layers of textile, 1 layer of non woven polypropylene filter.
All of our products are handmade therefore slight variations are expected making each mask one of a kind and unique, please do not consider them defective!
Handmade in EU, 100% viscose, high elastic rubber ear fastening.
Product dimensions: closed: 8x17 cm , open: 16x17 cm , length of rubber band: 17cm
Take care, when you go public, cover your mouth and nose!

_
FIGYELMEZTETÉS: Ez NEM egy orvosi segédeszköz! Önmagában NEM alkalmas a cseppfertőzések elleni védelemben!
Kérjük mosd és vasald minden hordás után, ha a maszk a lehelettől átnedvesedik, vegyél fel egy tisztát és a használtat pedig óvatosan vedd le és sterilizáld!

További kérdésekkel keress minket itt: production@tomcsanyi.eu